Bespoke Handmade Sliding Door Wardrobes and Sliding Wardrobe doors from Gliderobes
Bespoke handmade sliding door wardrobes and sliding wardrobe doors from Gliderobes made to order. Our dedicated factory makes everything to order from the highest of quality materials. Ensuring your new wardrobes and built to last.
If you would like to contact us to discuss how we can help you please visit our contact page here.
Keep up to date with our latest news by following us on Facebook here.
We provide comprehensive fitting instructions complete with pictures and fitting tips. Following our proven installation method will produce a fitted wardrobe which many professionals will envy!
If you need telephone help when you're fitting your wardrobe, just give us a call and we will talk you through any issues you may have. Although, we're sure you will not need any additional help, it's nice to know it's there if you need it.
Why Gliderobes and more about Gliderobes Sliding Wardrobe systems
Find out why you should choose Gliderobes and more about Gliderobes Sliding Wardrobe furniture.
If you would like to contact us to discuss how we can help you please visit our contact page here.
Site Map:
Keep up to date with our latest news by following us on Facebook here.
Website Design and Development by Chris Maloney Digital Design for Marketing in Chesterfield.
Build your wardrobe on our experience…
Gliderobes have installed hundreds of sliding door wardrobes within our fitting region, therefore you can build our experience into your room. Gliderobes are the ONLY company on the internet who offer a full bespoke solution. All other internet companies require YOU to decide how you are going to fit the wardrobe. Using our on-line quotation and buying section, you simply measure your room and answer the questions asked – we do all the calculations for the number of doors required, external framework, interior and all fixing components.
Other websites lead you to believe that simply putting thin liners on the walls and floors is all you have to do – how many walls and floors are this 'straight' and 'true'? The Gliderobes installation system eliminates out of true walls, floors and ceilings. If you want doors which are misaligned and slide open by themselves, then use their installation methods – just hope they're more careful when manufacturing the doors!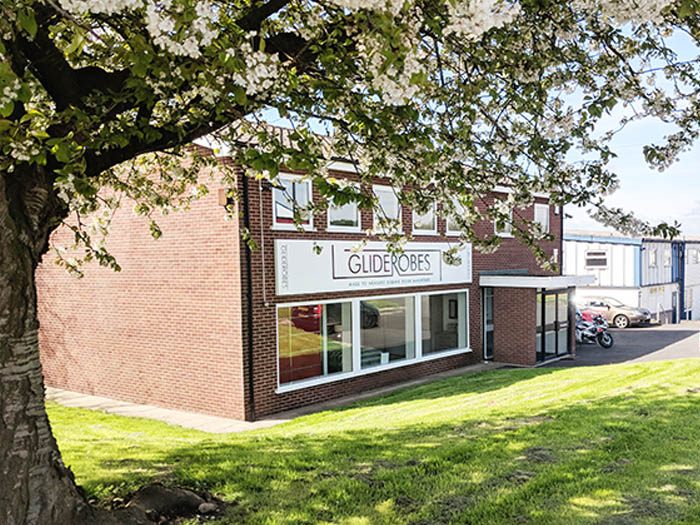 Who Are GlideRobes?
We're an independent, privately owned company who are Customer focused and dedicated to offering the customer the very best value for money and service. We are not tied in to any other larger company, so we have the flexibility of where to buy our raw materials.
We are registered at Companies House as Gliderobes Ltd and you can search companies house on-line web check to validate this.
We differ from other companies who offer sliding doors, as we give you the choice of either:
> Designing your own wardrobe and buying component parts, or
> We will offer you a fully packaged kit where we take the responsibility for specifying the wardrobe kit contents. Try using our on-line design tool and I'm sure you will quickly appreciate the work we put in to making our wardrobe kits are custom produced and meet your specification.

Quality Service
Here at Gliderobes we aim to provide a complete service at a competitive price. Every step is important to us, from confirming your design down to delivering and in some cases fitting your wardrobe.
Our wardrobes are made with the best materials available, sourced from the leading suppliers in their field, and are manufactured using top quality machinery, by expertly trained staff. And, just in case this sounds too good to be true, we offer a 10 year guarantee on every wardrobe.
Now after all that work, we wouldn't feel comfortable sending your wardrobe off with a courier. That's why we like to deliver your wardrobe ourselves, with our own drivers, in our own vans, ensuring your wardrobe arrives with you exactly how it left us.
All that's left is to fit your wardrobe. Each wardrobe comes complete with the necessary fittings and instructions to make building your wardrobe as simple as possible, and if you're not the DIY type, it's quite possible one of our fitters can come and fit your wardrobe for you! Please contact us for more details.
Sliding Door System
The type of sliding door system has a major influence on the price of the wardrobe kit, so we offer different ranges to suit your budget. We don't use the cheapest systems on the market result in a flimsy door with little strength. We start our range with a mid-quality grade of system which meets our quality standards. Sure, you may buy a cheaper door than ours, but it will be a lower quality. If you are tempted to buy cheaper somewhere else, then don't rush in to buying it, ask the manufacturer for samples first so you can make an informed choice – our samples are sent out the same day by 1st class post if ordered before 4PM, so a sample request will not slow down things too much.
Even if your spending more on a higher grade system, it's still better to order samples as some competitors offer budget aluminium framed doors at higher prices to make you believe that if your paying more, then you must be buying a better product. Our aluminium framed doors use a German system known as Raumplus, and these systems are usually sold through the higher end fitted bedroom specialists.
We only use door wheels with bearing axles on all our systems – this gives the life required to offer a 10 year guarantee, and smooth, silent running. In order to ensure that the wheels are not overloaded, we choose higher grade bearings, and have a design rule that only allows us to design a door up to 70% of it's maximum designed load carrying capability. The top guides are also wheels which offer a more positive location in the top track than other cheaper nylon skids which other companies fit as standard.
Boards
We buy top quality boards (melamine faced chipboard – MFC) from Egger, who are regarded as the best in the industry. We only use 18mm thickness and edge the boards ourselves using 2mm PVC. Other companies will only offer you 15mm and/or 0.6mm edging tape. 2mm gives a rounded edge to the board and is much more durable. The cost for this edging is more than the thinner edging tape, but it's this attention to details which gives the excellent finish to our wardrobes.
Mirror and Glass
Our mirror and glass conform to European safety standard EN 12600 class 2B2. Each piece of glass has the sharp edges removed before framing the door as this helps to prevent the glass cracking later after delivery. When glass is cut, it is done so by 'scoring' the surface, and then the glass will break along this line. Micro cracks can exist in the surface after cutting. Most door manufacturers leave this in a belief that they will not develop in to full cracks. We prefer to grind the edge of the glass to remove these micro cracks, and offer a guarantee on the glass in our doors, in the knowledge that we've done all we can to prevent failure. Ask other companies if they guarantee the glass in their doors after delivery – you'll then find out that most other companies guarantees exclude the glass and edge of the glass is not ground.
Delivery Information
We know that you don't want to wait in all day, and why should you!
It's so simple.
– When your order from GlideRobes, you choose the delivery date from a list offered on screen (actual date – not an estimate)
– We e-mail you the day before and send a copy of your delivery schedule to you
– We offer 30 minutes notice of arrival
– We will deliver to ground floor as standard, but when parking restrictions are in force we will drop at the kerb-side as we don't like collecting parking tickets! Who does?!
As we only use our own transport and drivers, we can ensure that your order arrives in pristine condition. Our van is loaded in our own factory using our own employees. Our vans are packed in the correct order for unloading and secured using straps and soft foam, so absolutely minimal chance of damage.
Our Trading Ethics.
Do You Want Value for Money? If yes, then read on…
When you're shopping around you will see other companies offering amazing deals where the main emphasis is on slashing prices and forcing customers by buy before the deadline ends. At GlideRobes, we like to think that Customers are a little more intelligent and can see through these amazing deals . In reality, sales are only genuine if companies have to offload excess stock, or seasonal stock. In the furniture industry, trade is not really seasonal, and when the goods are made to order, the finished stock is not in existence.
The only reason for our competitors to offer discounts is to pressurize Customers in to buying before they have chance to request material samples from several companies and make a considered purchase.
Competitors offering high list prices, who then offer fake sales only confuse customers as to the true value of the goods they purchasing. At GlideRobes our pricing is HONEST and STABLE and we will not give deadlines to pressurise customers.
We offer a range of sliding doors from our standard sliding door range, to our top of the range Raumplus system, which is regarded in the industry as the highest German quality system you can buy. So you can buy to suit your budget and rest assured that you have bought the very best value for money.
If you would like more information about our products are services please feel free to contact us. We would be more than happy to help you with anything questions or queries.
Please feel free to contact us using the form or alternatively, call on our direct number : 01773 600040
For trade enquiries please use the 'Trade" Page and complete the relevant section.
Showroom Opening Hours:
Monday to Friday – 9:00 am to 5:00 pm
Saturday's – 10:00 am to 4:00 pm
Showroom Address:
Unit 4 Hill Top Road,
Amber Business Centre,
Riddings,
Alfreton,
Derbyshire, DE55 4BR.